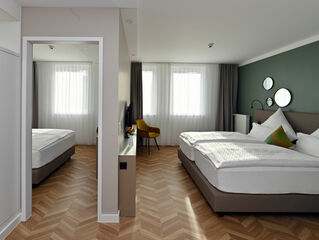 Family rooms consist of two rooms with a connecting door and a bathroom.
One room about 22 sqm is equipped with a bed in size 1,80 cm x 2,00 cm.
One room about 18 sqm with a queen size bed in the size 1,40 cm x 2,00 cm.
Our family rooms are barrier-free and modernly equipped. They have a bathroom with shower and toilet, hairdryer, flat-screen TV with radio, free WLAN, soundproof windows and doors.
All rooms are non-smoking
Equipment
Hair dryer
Seating
Flat screen TV with radio
Free WLAN
Accessibility
Non-smoking room
Key card
Baby crib on request
Equipment
Hair dryer
Seating
Flat screen TV with radio
Free WLAN
Accessibility
Non-smoking room
Key card
Baby crib on request
Equipment
Hair dryer
Seating
Flat screen TV with radio
Free WLAN
Accessibility
Non-smoking room
Key card
Baby crib on request
Equipment
Hair dryer
Seating
Flat screen TV with radio
Free WLAN
Accessibility
Non-smoking room
Key card
Baby crib on request
Equipment
Hair dryer
Seating
Flat screen TV with radio
Free WLAN
Accessibility
Non-smoking room
Key card
Baby crib on request
Equipment
Hair dryer
Seating
Flat screen TV with radio
Free WLAN
Accessibility
Non-smoking room
Key card
Baby crib on request
Equipment
Hair dryer
Seating
Flat screen TV with radio
Free WLAN
Accessibility
Non-smoking room
Key card
Baby crib on request
Equipment
Hair dryer
Seating
Flat screen TV with radio
Free WLAN
Accessibility
Non-smoking room
Key card
Baby crib on request