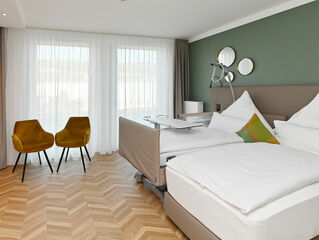 Our double room "Inclusive" offers you the highest comfort and special amenities. In addition to the standard bed, an additional nursing bed awaits you here. Furthermore, the room has a practical revolving door drive, which makes it easier for you to open and close the room door.
The room's generously sized bathroom is wheelchair-accessible. Upon request, we will gladly provide you with various aids to make your stay with us as pleasant as possible.
Our double rooms "Inclusive" are barrier-free and modernly equipped. They have a bathroom with shower and toilet, hairdryer, flat screen TV with radio, free WLAN, soundproof windows and doors.
All rooms are non-smoking
Equipment
Hair dryer
Seating
Flat screen TV with radio
Free WLAN
Accessibility
Non-smoking room
Key card
Baby crib on request
Equipment
Hair dryer
Seating
Flat screen TV with radio
Free WLAN
Accessibility
Non-smoking room
Key card
Baby crib on request
Equipment
Hair dryer
Seating
Flat screen TV with radio
Free WLAN
Accessibility
Non-smoking room
Key card
Baby crib on request
Equipment
Hair dryer
Seating
Flat screen TV with radio
Free WLAN
Accessibility
Non-smoking room
Key card
Baby crib on request
Equipment
Hair dryer
Seating
Flat screen TV with radio
Free WLAN
Accessibility
Non-smoking room
Key card
Baby crib on request
Equipment
Hair dryer
Seating
Flat screen TV with radio
Free WLAN
Accessibility
Non-smoking room
Key card
Baby crib on request
Equipment
Hair dryer
Seating
Flat screen TV with radio
Free WLAN
Accessibility
Non-smoking room
Key card
Baby crib on request
Equipment
Hair dryer
Seating
Flat screen TV with radio
Free WLAN
Accessibility
Non-smoking room
Key card
Baby crib on request