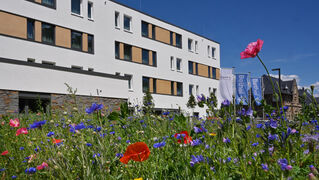 Our inclusive hotel offers a total of 72 barrier-free rooms with 148 beds, which are modern and cozy.
We focus on values, community, regionality and sustainability. We pride ourselves on creating an inclusive environment where every guest is welcome. We value a lived community and encourage cooperation between people with and without disabilities. We also focus on regionality and sustainability in relation to the Ahr Valley and the environment.
New: Wine bar
Since recently a wine bar enriches our hotel. You will find the "Weinstein", run by a local restaurateur to the left of our main entrance.
Current opening hours:
Tuesday to Saturday: from 14:00
Friday: closed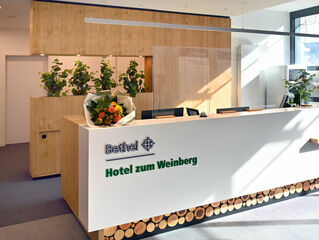 Values
We are committed to values such as inclusion, accessibility, respect and equality. Our vision is to create an open and inclusive environment where every guest is welcomed and valued. The hotel provides a barrier-free environment, sensitizes employees to the needs of all guests and is committed to a tolerant and open society. Respect and equality are fundamental values that apply to all guests and employees.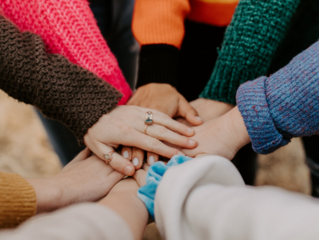 Community
Diversity enriches not only us, but also our guests. At Bethel Hotel zum Weinberg, people with and without handicaps work together with equal rights and commitment. We are actively committed to an open society with fewer barriers and more tolerance. Furthermore, we offer young people with and without handicap the opportunity of an apprenticeship. For us, this is the key to successful coexistence. The offer of barrier-free or care rooms is therefore a matter of course for us.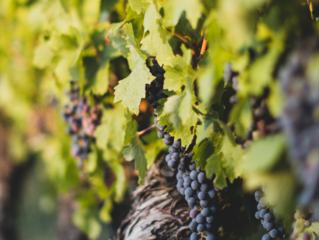 Regionality
In order to provide our guests with the best possible care, we use products from the region when purchasing food. The apples, apple juice and honey come from the neighboring municipality of Grafschaft; the grape juice from the Ahr valley; the eggs come directly fresh to us from the chicken farm in Nierendorf; bread and rolls come from the master baker in Bad Neuenahr-Ahrweiler and the sausage we buy from the butcher in Heimerzheim. We keep a small selection of wines from Ahr vintners in stock for you. Most of the craftsmen involved in the construction come from the region or the surrounding area. Thus we also contribute to the strengthening of the infrastructure in the Ahr valley.
At our hotel, sustainability is not just an option, but an essential part of our philosophy. We are committed to conserving resources and acting ecologically.
Coffee & Tea
Regional varieties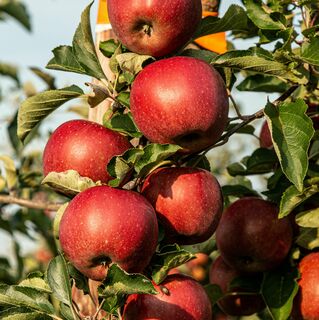 The regionality of our food is important to us. Therefore, we use only regional varieties for our fruits and vegetables and deliberately avoid using exotic fruits or foods that would have to travel long distances. We also pay attention to regional origin for our juices and rely on local suppliers. Through our conscious selection, we not only want to protect the environment, but also enhance the taste and quality of our food and beverages.
Unpacked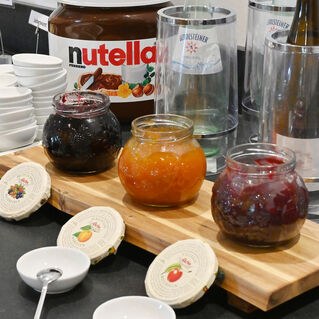 We offer our guests largely unpackaged products at breakfast and deliberately avoid the use of small packages to prevent waste. Guests can thus not only have an environmentally friendly breakfast, but also contribute to sustainability. We also do not use minibars to reduce electricity consumption. Instead, we keep chilled drinks available for you at the reception.
Energy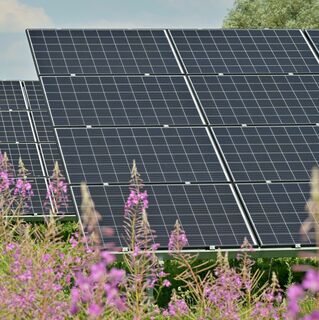 An important component of our sustainability strategy is the use of renewable energies. Therefore, we obtain electricity for our hotel from our own photovoltaic system, which is installed on the roof of the building. This enables us to cover part of our energy requirements in an environmentally friendly and resource-saving way. In addition, we have connected to the district heating network of the Ahrtalwerke in order to have up-to-date technology available in this area as well. Our guests can thus enjoy an environmentally friendly stay and contribute to a more sustainable lifestyle.
Green roof
The roof of the Hotel zum Weinberg is extensively greened and thus fulfills an important ecological function as a compensation area. The greenery stores water and later releases it into the surrounding area, which helps to improve the climate. In addition, the green roof provides habitat for numerous plants and animals. The green roof makes an important contribution to relieving the burden on the sewage system and wastewater treatment plants.
Thermal insulation
Check in & Check out times
Our personal service is available during reception opening hours from 07:00 to 02:00. For arrivals after 02:00 you will receive your room card via a night safe.
Check-in time: from 15:00
Check-out time: 07:00 am to 11:00 am
If you wish to check-in or check-out at other times, please contact us in advance to check availability. We strive to provide check-in and check-out outside of regular business hours to meet your needs.
Please do not hesitate to contact us with any questions or concerns. We look forward to making your stay a pleasant one.
WLAN
You have free WiFi throughout the hotel.
To do this, select "Hotel zum Weinberg" on your terminal and confirm once the free use with which you also accept the terms of use.
Dog friendly
Well-behaved dogs are welcome with us.
Per dog per night we charge an extra fee of 10,00 €.
Please note that dogs are not allowed in the restaurant. However, we will gladly allow you to enjoy our breakfast, please ask us.
Accessibility
Our hotel is barrier-free, so that even people who are dependent on a wheelchair or a walker, are visually or hearing impaired, can get around without assistance.
We are officially certified according to "Travel for All", a nationwide label in the field of accessibility.
You can see our certificate here:
Key card
When you check in, we will give you a room card that will not only open the door to your room, but also activate the power supply. Once you enter the room, insert the card into the card slot located to the right of the door.
In addition, you can also use the room card to open the rear door to the hotel parking lot by holding it in front of the gray box. Please note that this door opens automatically and should not be pulled, even if it opens a bit slowly.
But that's not all: the room card also provides access to the barrier system. This allows you to enter and exit conveniently and easily at any time
Breakfast
You can enjoy our breakfast buffet at the following times:
Monday - Friday in the time from 6:30 a.m. to 10:00 a.m.
Saturday, Sunday and holidays from 7:00 a.m. to 10:30 a.m.
If you have any intolerances or vegetarian/vegan diet, please inform us before your arrival. We will try to take your wishes into account.
Smoke-free
In the interest of our guests and for the protection of our employees, our hotel is managed as a non-smoking hotel.
We would like to point out that the non-smoking regulation in our building must be strictly observed. In the event of a violation of this regulation, we reserve the right to levy a fine of € 200.00.
Parking
You can park with us free of charge.
The access road is located between the train station and the hotel. Please use the intercom at the barrier system to gain access. We will then open the barrier for you immediately.
If there is no parking space available, please drive out through the barrier at the rear (it opens automatically) and park your vehicle in the adjacent Moses parking lot. Please put out the parking disc. Please ring the rear entrance (parking lot side) and come to the reception, we will show you other parking possibilities.
We would like to inform you that our parking lot is video monitored to ensure the safety of our guests and their vehicles.
Payment methods
We offer you various payment options. You can pay us with Visa and Mastercard, by EC card or also in cash.
We would like to offer you the greatest possible flexibility and convenience.
Drinks
At our reception you can get a selection of
soft drinks
coffee and tea
beer and wine
a small assortment of sweets
Please contact us, we will be glad to help you.
Safe
In the reception area we keep a safe where we can deposit your valuables for you if necessary. Of course, you will receive a receipt as proof of this.
We would like to offer you the greatest possible security and peace of mind during your stay.
Bicycles & E-bikes
Bicycles and e-bikes can be rented directly from BasisLager in Ahrweiler. To do this, please contact Mrs. Berg at 02641 2227, she will be happy to help you.
You can find all information here
A bicycle shelter and charging boxes for your batteries are available for your bicycles.
Due to fire safety regulations, charging batteries in the hotel room is not allowed.
Children
We welcome not only our big, but also the little guests and would like to make their stay with us in the hotel as pleasant as possible. We are happy to provide a baby crib for children up to 3 years free of charge .
To meet the needs of our little guests, we also have a permanently installed changing table. In addition, we are happy to offer you the possibility to borrow a baby monitor, a high chair and a bottle warmer from us. These amenities are of course free of charge for you.
Shoe shine machine
There is a shoe shine machine at the staircase. This is available to you free of charge.
Please note the operating instructions.
Ironing service
Upon request, our ironing service is available to you.
The calculation takes place according to expenditure.
Contact
Bethel
Hotel zum Weinberg gGmbH
Hauptstraße 62
53474 Bad Neuenahr-Ahrweiler